Blogger Sarah Montgomery Spices Up Her Bedroom
Get your mind out of the gutter, Sarah Montgomery is here to talk about the union of two design styles in her most intimate space! Mixing styles, patterns and finishes is second nature to Sarah, as a textile designer for Eastern Accents. She is also a truly talented interior designer in her own right as well as the author of the blog Tuft and Tassel. 
"[Pattern mixing] it's what makes design interesting and you can see it in all of my work. When my boyfriend and I moved in together over a year ago I had the challenge of mixing his mid-century needs with my eclectic and vintage pieces. That's still the common theme throughout our home and we've slowly been adding pieces that we pick out together, but the bedroom still needs help."
Inspired by Gaar Parchment, which hasn't gotten many installs or photoshoots since it's debut last year, Sarah has put together some prints, textures and colors to revamp her room. We are so excited to see how it turns out! 
Here is what the bedroom looks like now. "It's fine, but nothing about it makes me really happy, except bedtime, I love bedtime. There is a mix of styles for sure, but I felt like I was waiting for something to inspire me to bring it all together," says Sarah. 
"The bedroom is painted Pale Smoke by Benjamin Moore and we have since upgraded my DIY headboard to a simple and beautiful bed from local company, Hedge House Furniture. I knew I wasn't going to repaint but wanted to do something behind the bed to make it more cozy and interesting. Opposite the bed are two builder grade accordion door closets which you will never see. We also have sliding glass doors to the deck, so with two full walls of doors we have very little surface area to do something cool. I have it bad, I know."
Pairing this luscious fabric with forest themes goes well with the green color of our Parchment colorway, borrowed from the infamous Farrow and Ball. Inchyra Blue is actually a green in my opinion, and it runs through many of our patterns because it's neutral and versatile. The parchment colored ground is a newsprint paper color, where this colorway got it's name.
Sarah meditates on her favorite pattern types: "I can confidently describe one of my favorite patterns as traditional florals or historic patterns done in modern color ways. This is kind of a traditional coloration of a pretty traditional pattern, but it's just so good."
"The next thing I had to think about was drapery. We'd been living with those crazy Ikea panels with the intention to switch them out as soon as I found the right thing. As a color and pattern person I feel like I'm giving in if I go with plain drapery. It truly is the right answer sometimes, just a little harder to succumb to for a person like me."
What is "
Graphic with Granny"? 
This could perfectly describe my boyfriend Connor and me as he is a Graphic Designer and I love bedtime. The colors in the fabric and Gaar Parchment are similar so that paves the way for a juxtaposition of styles. I'm all about mixing multiple colors in a room, but in this case sticking to one palette made sense.
Do you ever worry that all the existing furniture you have won't match the new stuff? "We have a mix of woods in the bedroom and some very traditional dressers so I wanted modern lighting. Etsy is a great place for modern pendants and I knew I could find and customize ones with the right cord length and toggle switch placement. I ended up ordering from Phototonic Studio.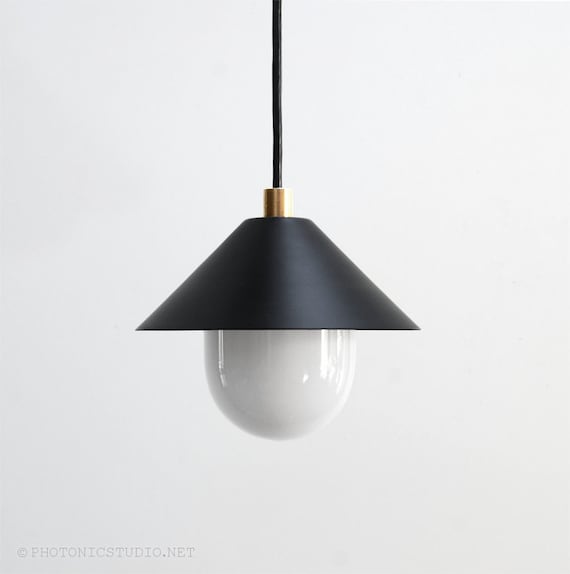 "[Gaar] also happen to go wonderfully with my shadow puppet artwork. In any other room in the house, I might find these all too matchy, but in this room
"there were fewer opportunities to pepper the colors and different styles around due to limited wall space."
One trick I use in mixing styles is to bring in a piece with a mix of finishes so that using mismatched furniture seems to make more sense. In this case the drapery hardware is a mix of wood and brass. Your eye seeks out the variety and contrast." Stay tuned for the reveal on Tuft and Tassel blog.
Content adapted from the Tuft and Tassel blog by Sarah Montgomery with her express permission to use images and content.